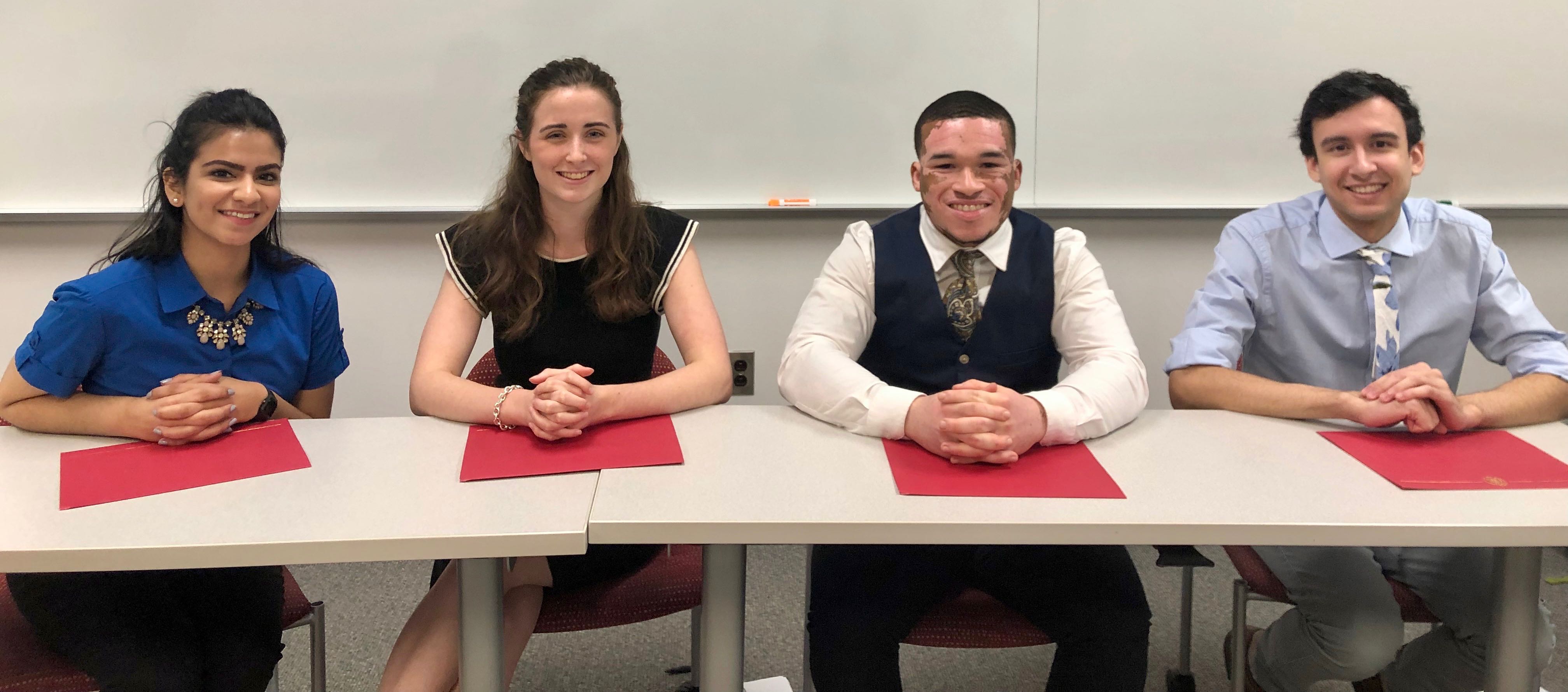 Riley Link, Curtis McDaniel, Daniel Rodriguez, and Sabeen Rokerya, 2018 Ralph W. Voorhees Public Service Fellows, partnered with the Middlesex County Food Organization and Outreach Distribution Services (MCFOODS) during the Fall 2018 semester to research food insecurity in Middlesex County. MCFOODS asked the fellows to explore whether there are areas of unmet demand for food assistance in Middlesex County and especially in the towns of Carteret and Woodbridge. This is difficult to do and could not be fully completed within one semester. The fellows began the process of answering these questions by (1) exploring the demographic and economic characteristics of communities in Middlesex County, (2) mapping the MCFOODS-networked food pantries that serve these communities, and (3) identifying communities which experience higher rates of poverty and which have more adults 75 and over. Using this information, the team identified areas that might have higher demand for food assistance and therefore warrant additional research. The report begins with background information about food insecurity. A short description about methodology and limitations follows. The authors then discuss what they learned about Middlesex County and specifically about Carteret and Woodbridge. The report concludes with key takeaways and recommendations for future research.
Riley Link is a senior Douglass woman and Honors College student majoring in Public Health and minoring in Economics and Spanish. Riley is involved with a number of programs dedicated to public service. She is an Eagleton Undergraduate Associate and received the Rutgers-Eagleton Washington Internship Award to intern with Governor Murphy's Office of Federal Affairs. She has previously interned with WhyHunger and with the Mandela Washington Fellowship Rutgers Civic Leadership Institute. Riley also conducted Aresty research on the political standing of a disadvantaged ethnic group in Brazil, participated in multiple women's leadership seminars, served as a Douglass Residential College Peer Academic Leader. Riley received the Rutgers Civic Scholar Certificate for her commitment to the local community. She co-founded A2E, a large after-school tutoring program in New Brunswick which she directs as President of Youth Empowerment Club. She also completed the Advancing Community Development program where she worked with local organizations to expand food access in New Brunswick. Riley has had the opportunity to study abroad in both Cusco, Peru and in Valencia, Spain and she has taken academic trips to Brazil and Israel. This year, Riley is looking forward to conducting research with community partners through the Ralph W. Voorhees Fellowship.
Curtis J. McDaniel is a senior Urban Planning and Design major with a minor in Economics. After witnessing the need for better planning and community economic development in many of the municipalities of New Jersey, he decided to pursue a career in urban planning and community development. He is an impassioned and determined student who aspires to combine the fields of urban planning and ministry nationally and internationally. He aspires to create a committee of urban planners and pastors that will travel nationally and internationally planting churches, redeveloping urban areas, and implementing practices that encourage healthier, greener and more sustainable communities. Currently he serves as the 2018-2019 Community Service Outreach Chair of the Bloustein Public Service Association (BPSA) and Vice President of Ratio Chirsti, a campus apologetics alliance. He is also a Community Scholar with the Housing and Community Development Network of New Jersey (HCDNNJ). With HCDNNJ he partnered with Homes for All, Inc., a not-for-profit affordable housing developer, in Toms River where he helped with the "Hands for All" program, which provides low-to-moderate income Ocean County residents with free of charge major and minor home repairs. In 2015 he volunteered with Camden Churches Organized for the People (CCOP), where he supported, organized and advocated for the "Ban-the-Box" bill which restricts covered employers to inquire into, and use, criminal records. He also volunteers with Saving Our Sons, Inc., where he mentors and teaches life skills to at-risk adolescence in the Chester Charter School for the Arts. This year, he looks forward to expanding the BPSA's charitable arm within the greater New Brunswick community and conducting research that will better our communities through the Ralph W. Voorhees Fellowship. After graduating from Rutgers, he will be pursuing his Masters City and Regional Planning (M.C.R.P.) and Masters in Business Administration (M.B.A.) in a dual degree program.
Daniel Rodriguez is senior studying Urban Planning & Design Policy and Minoring in Statistics. As a 3rd year Resident Assistant and former vice-president and president of B.E.S.T. Hall's Residence Hall Association, Daniel has been committed to supporting over 500 residents of diverse backgrounds each year.  Daniel has also contributed to research through the Rutgers Collaborative Center's Community Research Program, the Aresty Summer Science Program, and the Center for Advanced Infrastructure and  Transportation (CAIT). In these capacities, Daniel has conducted a study on youth programs in the New Brunswick area, worked on a conference paper regarding the statistical comparison of train accident rates, and contributed in several other innovative projects and proposals in the transportation research space. These experiences prompted Daniel to work an internship for the United States Department of Transportation in Washington D.C. under the Departmental Office of Civil Rights for the Office of the Secretary. In this capacity, Daniel provided supporting statistical analysis for an investigation of the Los Angeles City Metro Transportation Agency (LACMTA) concerning an alleged violation of Title VI of the Civil Rights Act (which prohibits the discriminatory use of federal funding). After this experience, Daniel worked for Horizon Blue Cross Blue Shield as an intern during the school year. There he  worked on a database system concerning Medicaid healthcare provider issues which could reduce toil, increase triage speed, and give patients the coverage they needed as efficiently as possible. Most recently, Daniel was given the opportunity to intern for JP Morgan Chase & Co. as part of the Launching Leaders program in which he worked on the backend of the data analysis of major technology issues affecting key infrastructure across the firm that could compromise/affect people all over the world. Overall, Daniel loves the use of analysis and data science for the support of systems that can affect all people for the better.
Sabeen Rokerya (she/hers) is a fourth-year student in the School of Environmental and Biological Sciences and the Bloustein School of Planning and Public Policy. She is currently earning her bachelor's degree in Public Health, and minoring in both Spanish and Environmental Policy, Institutions, and Behavior (EPIB). Sabeen is an involved and dedicated student leader, and currently serves as the president of the Douglass Governing Council, which represents the student population of the Douglass Residential College at Rutgers. Sabeen is also currently a member of Eta Sigma Gamma, a national health education honor society, and has previously served as a student leader within the Rutgers University Student Assembly. Sabeen is committed to an active student life within the New Brunswick community, which is demonstrated through her current engagement with the Center for State Health Policy, where she works in collaboration with a team of researchers to address community impacts on children's health indicators. Subsequently, she has volunteered in various international communities to learn more about their individual health care challenges and participate in community development projects. Sabeen's drive to foster connections and encourage community partnerships has been catalyzed by her experiences serving as a youth mentor in New Brunswick public schools, through the Collaborative Center for Community-Based Research and Service, and as a student and volunteer in service-learning experiences that she has had in Mexico and the Dominican Republic. Sabeen, throughout her senior year at Rutgers and beyond, is committed to working for and with communities globally, and to enabling these communities to grow and improve in sustainable ways that induce and bolster positive health outcomes for all.