RWV Center staff and faculty affiliates presented their research at the Urban Affairs Conference in Nashville, Tennessee this past week. Highlights from the conference include:
James DeFilippis' colloquy presentation in the panel series entitled "Understanding the New Urban Political Economies" discussed how immigrant labor markets use the language of Racial Capitalism, and the implications of that endeavor for understanding urban theory more generally.  
Kathe Newman's colloquy presentation, also in the "Understanding the New Urban Political Economies" panel series, discussed the relationship between financialization and urban change.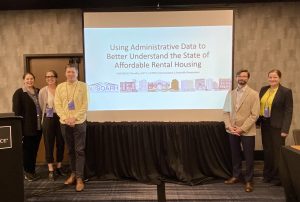 Shiloh Deitz, Lauren Nolan, Kathe Newman, and Eric Seymour organized a panel entitled "Using Administrative Data to Better Understand the State of Affordable Rental Housing." The panel included a set of papers that demonstrated the importance of gathering, cleaning, and linking information about housing nested within administrative datasets to better understand challenges facing affordable rental housing today.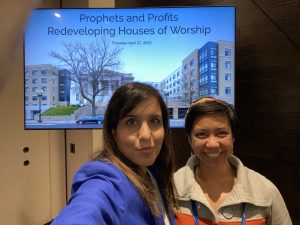 Nadia Mian's colloquy discussed faith-based property development. The discussion centered around steps that can be taken by faith institutions, municipalities, and community organizations to embrace houses of worship as they transition their property to innovative new uses.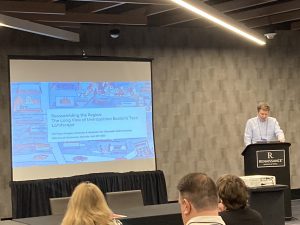 Will Payne's presentation on Boston's tech landscape used a combination of archival, visual and spatial analytic methods to examine office locations in the Boston-area. The presentation showed how tech companies expanded back into New England because of the concentration of skilled digital labor, as well as the built environment and cultural landscape of suburban technology work.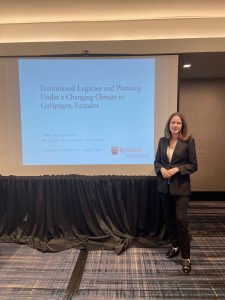 Andrea Restrepo-Mieth gave a talk on "Municipal Capacity, Civil Society, and Climate Change Adaptation: Evidence from Galápagos." She examined how municipalities with limited administrative capacity and low civil society mobilization address growing needs to plan for climate change adaptation.